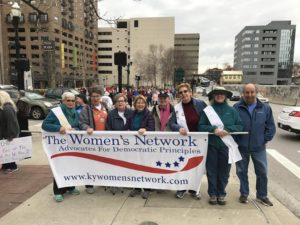 There is so much momentum now for grassroots progressive action at the state and federal levels.
With our mission of educating, motivating, advocating and activating Kentuckians to support Democratic Party principles, The Women's Network encourages members and friends to stay abreast of issues and communicate your opinions with your elected leaders.
In recent months, several online and in-person groups have
organized to resist the Republican agenda. If you are not already aware of these new initiatives, check them out and find the best ways to share your voice.
Whether you're actively involved in a TWN Branch or primarily supportive of our 14 Democratic Principles, let your voices be heard!
Kentucky Together  believes that to make a better Kentucky, we must invest in people, communities and our economy through vital public services. We call on our governor and lawmakers to strengthen the Commonwealth by raising new revenue through tax reform that is fair and sustainable. [The Women' Network is a partner in this coalition.]
Kentuckians for the Commonwealth is a community of people who organize for a fair economy, a healthy environment, new safe energy, and an honest democracy.
On the web: kftc.org
On Facebook:  Kentuckians for the Commonwealth
On Twitter:   @KFTC;   @NKY_KFTC;   @JCKFTC;  @EKY_KFTC;  @SoKyKFTC
A new Walk the Talk Coalition is organizing a listening project to engage Democratic voters who haven't voted recently, with the goal of flipping the 6th District in 2018. Volunteers are needed to visit neighbors and listen to their concerns. To get engaged, attend a training session on either Sunday, April 23, 2017, 2-4 pm or Saturday, April 29, 10 am-12 pm both at the Lexington Northside Library. For more information, contact Shannon Stuart-Smith at rawkjock@windstream.net
Northern Kentucky Progressive Events calendar
New Kentucky Project seeks to move Kentucky forward and modernize our state through identifying and promoting new ideas and new leaders.
On the web: https://NewKentuckyProject.com
On Facebook: The New Kentucky Project
On Twitter:  @newkyproject
contact Erik Jarboe: erik@newkyproject.com
Indivisible – A practical guide for resisting the Trump agenda. Organizing communications with elected officials.
On the web (national):  indivisibleguide.com
On the web (Sixth District): indivisiblebluegrass.org
On Facebook:  Indivisible Bluegrass; Indivisible in the Sixth
Bluegrass contact to get more involved:  info@indivisiblebluegrass.org
Together We Will Kentucky – a group committed to working to preserve and promote progressive values in our Commonwealth. [Evolved from Pantsuit Nation]
Together We Will Bluegrass intends to carry forward the values of inclusion and action expressed through political impact, education and engagement and volunteering and support of local organizations.
Together Frankfort
Together We Will Louisville & Southern Indiana
On Facebook: Together We Will: Louisville and Southern Indiana Chapter
Kentucky Voices for Health is a coalition of individuals and organizations working together to improve the health of all Kentuckians.
Save Kentucky Healthcare  is an effort led by former Kentucky Governor Steve Beshear to continue Kentucky's dramatic success in expanding health insurance under the Affordable Care Act.
The News Literacy Project (NLP) is a nonpartisan national education nonprofit that works with educators and journalists to teach middle school and high school students how to sort fact from fiction in the digital age.
League of Women Voters is a nonpartisan political organization which encourages informed and active participation in government, works to increase understanding of major public policy issues, and influences public policy through education and advocacy (and has for 98 years).
Contact the League's statewide office:
Contact the Louisville chapter:
Contact the Hardin County chapter:
Contact the Lexington chapter:
The Christian Muslim Dialogue promotes understanding and mutual respect between Christians and Muslims. Through discussion and reflection, it believes that all can counter prejudices and inflammatory rhetoric and help raise the tenor of the dialogue. Meetings are held in Lexington on the fourth Saturday of most months.
On the web: cmdlex.org
On Facebook:  christian muslim dialogue of lexington ky
Town Hall Project website – A volunteer-powered, grassroots effort that empowers constituents across the country to have face-to-face conversations with their elected representatives. We share progressive values and believe strongly in civic engagement. We research every district and state for public events with Members of Congress. We have a team of organizers that works with local groups on the ground to coordinate efforts and encourage citizens to amplify their voices.
FORTIFY: Positive Activism for Safeguarding our Nation  – This Facebook group is offered as a meeting ground, an idea generator, a place to report about our activism. We can announce things happening on a national, statewide or neighborhood level – running the gamut from rallies to phone banks to sweat lodges, prayer circles to sit-ins to yard sales, planning meetings to performance art. This is a positively-oriented environment: we like to encourage each other to maintain a sense of personal balance.