The Women's Network: Advocates for Democratic Principles
12th Statewide Issues Forum
Saturday, October 14, 2017 – Receptions, Erlanger, Kentucky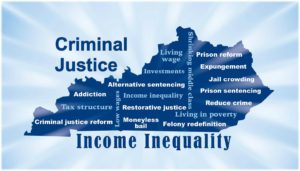 Agenda
8:15    Registration and Coffee
9:00     Welcome: Donna Moore, TWN Chair
9:15     Justice Reform: Where We Are Now
Kate Miller, Advocacy Director, ACLU of KY
Short break
9:45       Panel on Criminal Justice Reform       
Moderator: The Honorable Attica Scott, KY House District 41, Jefferson County
Restorative Justice: Diana Queen, President, KY Center for Restorative Justice
Persistent Felons: Damon Preston, Deputy Director, KY Dept. of Public Advocacy
Prison Entrepreneurship: Bobby Clark, President, Sustainable Business Ventures
Alternative Sentencing: Damon Preston
Short break
11:00      Q&A on Criminal Justice Reform
(questions submitted in advance on notecards in your packet)
11:30   Lunch
12:30    Panel on Income Inequality       
Moderator: Col Owens, Chair, CPI Committee on Income Inequality
James Ziliac, Executive Director, UK Center for Poverty Research
Janet Harrah, Senior Director, NKU Center for Economic Analysis and Development
Jason Bailey, Executive Director, KY Center for Economic Policy
The Honorable Dennis Keene, KY House District 67, Campbell County
1:30  Q&A
2:00  Annual business meetings of TWN & TWNPAC
In 2009, The Women's Network created the Commonwealth Institute on Policy Issues and Civic Engagement. CPI research is reported annually at this issues forum.
Receptions Banquet & Conference Center, 1379 Donaldson Hwy/KY-236, Erlanger, KY 41018
Directions: driving north on I-17/75, take Exit 184, Route 236. Turn left (west) at the end of the ramp. The venue is 1.5 miles on your left.
Please register by Friday, October 6.
If you prefer to mail us a check, please provide the information on the form above and mail a check payable to TWN to The Women's Network, P.O. Box 910246, Lexington, KY 40591-0246. Annual membership dues are $30 if paid by cash or check, or $35 via PayPal. Membership dues are not a donation to TWNPAC.